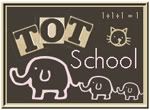 Here are some things we did at Tot School last week:
Boo enjoyed coloring with chalk on construction paper!
I gave Boo her cat bank and her change to put in it.
She concentrated hard on this activity and was able to do it easily, although she had so much change that she got bored before she put it all in!
This was one of our tot tray activities, Boo had fun dumping and pouring the jewels into the cup and container. It was cute when she would put a jewel into the toilet paper roll and then lift it up and look in the tube wondering where the jewel went! Eventually she understood that because the tube had no bottom, the jewel falls through.
She played with this activity for a long time.
I loved it when she put some jewels into the cup and pretended to drink it, she even made an ahhhhh sound afterwards!