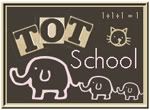 Considering this is only my third day of teaching tot school, I am actually already starting to find my beat and finding it a lot less difficult than I thought it would be to get started. Although my organization is definately not at the level I would like it to be, I am confident it will all come together sooner or later.
Well lets get started on the good stuff.................This is Boo my youngest precious creation experiencing her first moments of tot school and really getting into the spirits of it!!!!!
Boo found an old touque of hers from last year and insisted on wearing it while taking her cabbage patch baby for a stroller ride! I think she came to me about 25 times holding her touque in her hand and making an uh uh sound for me to put it on her because it was too small and kept falling off!
Boo's first painting experience! She really loved it and kept trying to take her brother Dino's planets he was painting! I only gave her an ordinary paintbrush for her first attempt at painting but I am looking forward to trying new tools with her for painting like sponges and toothbrushes!!!